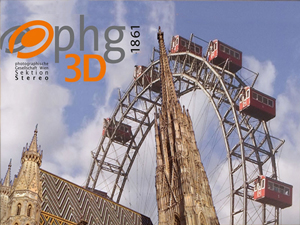 The Photographische Gesellschaft, (PHG)
, founded in Vienna in 1861, is the longest-standing photographic society in the German-speaking countries and the second-oldest in the world. It was founded on 22 March 1861 by Anton Georg Martin at the Austrian Academy of Sciences in Vienna.
The Sektion Stereo of the Photographische Gesellschaft in Wien gegründet 1861 (phg) promotes the art, the joy and Knowlege of Stereoscopy.
It organizes international competitions and 3D Stereo 3D festivals. 3D photographers from around the world are invited to participate.
Do you want to participate? Do you want to become a member of phg? Any question concerning stereoscopy?
Please feel free to write a mail:
This email address is being protected from spambots. You need JavaScript enabled to view it.
Impressum
Gemäß den Bestimmungen des E-Commercegesetzes geben wir folgende Daten bekannt:
Photographische Gesellschaft gegründet in Wien 1861A-1140 Wien, Leyserstraße 6,AustriaTel: +43 (0)1982 39 14 -310