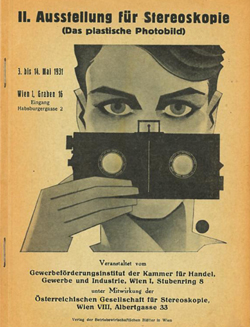 On the occasion of the 90th anniversary of the Stereoscopy Section, the past and the present were brought together in a fascinating exhibition. DIE 3Dimensionale ranged from historical collectibles, lenticulars and anaglyph images to cutting-edge 3D works by renowned contemporary artists.
90 years of Austrian stereoscopy, and not a bit old! Teaser DIE 3Dimensionale 2018
In 1928 Austrian stereoscopy founded as "Österreichische Gesellschaft für Stereoskopie". The declared goal? To preserve and promote the art, joy and knowledge of stereoscopic photography. Thanks to the Photographic Society and its Stereo section, a great archive of 3-D recordings exists today.
Retrospective DIE 3Dimensionale 2018
Stereofotografie (3D): Kurt Bauer
 Fotografie (2D): Horst Stasny
Fotografie(2D): Viktor kabelka
DAS Programm - the program of the 3D HD AV Shows and Presentations
DIE Ausstellung - the exhibition